10 Affordable, Simple, DIY Gifts
I get it.  It's the season of gift giving – but hey, you aren't made of money and you don't have a ton of time. So, what the HECK are you supposed to give as a gift this year?  Gift cards are for quitters, you don't know how to knit a scarf, and the last time you attempted to bake cookies, you almost burned down the house.  You'd love to give something personal – but you're not necessarily an artist.  You'd love to do the whole DIY thing, but you have NO IDEA what to do!  So what can you do that's quick, simple, and – if we're being honest – fairly inexpensive to throw together?
Fear not my creative brained friend!  Personalized or DIY gifts don't have to be insanely expensive, and they don't take a ton of skill either!  You can come up with some pretty fabulous last-minute gifts that take nothing more than a day or two to create, and can be made from things you either have in your house already, or that won't cost you an arm and a leg to pick up at a craft store or even a dollar store.  Seriously.
I've hand-picked a few of my favorites for you.  Some I have made before, and some I plan to make this year.  Each one is sure to impress!  Remember that a gift made with love is always more valuable than a last minute Starbucks card!  (Although, throw one of those in there too, and you'll REALLY get on their good side, I'm sure!)
Personalized Notebooks/Sketchpads
So easy, anyone can do it. You can either go the easy route – cover it with colorful contact paper like you used to cover your textbooks in high school – or you can get out the scissors, the glue, and use those decoupage skills!  The photo above shows an even more interesting way to make a sketchbook or journal totally personal!  The DIY options on this sort of gift are endless!Click the photo to learn how to make one like that!
Perfect for: any artist or journal keeper/writer in your life.
Shadowbox
Pick up a shadowbox frame at any craft store (Hobby Lobby, Michael's, etc.) Fill it up with memories, photos, anything you can think of. I've made some with photos, autographed items, ticket stubs, hockey pucks – all kinds of things!  Get on google or Pinterest and browse for some DIY inspiration.  These are super easy to make once you have the idea!  The photo above is from Julie Seguss, and it is SUPER CUTE!
Perfect for: anyone!  Like a scrapbook you can throw up on your wall, shadowboxes can document really amazing memories.
Photo frame or collage
Love the idea of a shadowbox but have zero creativity? Go the photo frame route.  It's a little less "DIY" but totally creative. Pick up a creatively styled photo frame at any store (you can find some really unique ones at Hobby Lobby & Michael's) and print out some of your favorite photos and colored paper to fill the frame.  Print your photos on photo paper at home, or upload them to CVS/Walgreens website and have them printed for pennies!
Perfect for: mom, dad, or that best friend who just got that new apartment with the incredibly bare walls!
Hand painted wine glasses
If your wine-loving friend has more than enough bottles of wine, maybe it's time to supply them with some additional glasses. This way you know, you can share the joy.  Decorating wine glasses is super easy, and actually makes for a good time if you do this as a night out with your friends.  It's like one of those "wine and paint" nights…just in your own living room, and with glass instead of canvas.  You can find a ton of DIY instructions online, but the easiest is here at wiki-how.  All you need are wine glasses, some paper towels, a sharpie or two, some glass paint (again, find at your local craft store) and an oven.  That's it!
Perfect for: well, I'm sure you already had someone in mind when you read this.  Yeah, it's for them ;)
Sharpie Coffee Mugs
For our non-wine drinkers or those who just love their cup of coffee, you can do a similar craft project with some plain coffee mugs. All you need for this project are some plain coffee mugs, some Sharpie markers (oil-based Sharpies and enamel-based paints made specifically for ceramics will make these dishwasher safe, otherwise, hand wash only!) and an oven.  This is a great DIY activity to do with the kids - as long as you're keeping an eye on them while they use those markers!  See a great example of these mugs here: Good and Messy – Sharpie Monogram Mugs.
Perfect for: your sister, your BFF, the kids' teacher, your boss – really, anyone who enjoys a good cup of coffee or tea.
Homemade Body Butter
Lotions and creams and lip balms make great gifts for those "I have no idea what to get you, so here's a basket of stuff to make you smell good," but if you're not a fan of the mass produced, chemically crazy stuff you find at the chain stores – or you just don't want to leave the house, which, by the way, I totally understand this time of year – you can make a DIY, home made body butter (or sugar scrub, or really anything you can think of) with just a few simple ingredients.: coconut oil, vitamin E oil (optional) and your favorite fragrance or essential oils. Seriously, that's it! You can find different recipes with more complex ingredient lists, but this one is so easy and super luxurious.  This is the recipe I have used, and it pleases every single time: Living the Nourished Life – Whipped Body Butter.  Although, I think I'll be trying this one this year:  Mint Chocolate Body Butter.
Perfect for: Me.  Send them all to me.  Just kidding… :) These are perfect to put in a cute little jar (with a tight sealing lid!) and give to your BFF.
Hot Cocoa Cones or Cookie Mix
Know someone that loves cookies or hot chocolate, but you don't really want to bake cookies because you're afraid of burning your house down or mistaking the salt for sugar again? Consider making cookie mix jars or hot cocoa cones!  Basically all you need to do is find your favorite cookie recipe, print it out or write it on a little card, measure all of the dry ingredients, and layer them in a mason jar.  Whoever you give them to will be responsible for adding things like butter and eggs, and they do the baking as they please.  Or in the case of the cocoa cones, it becomes the ultimate in just add water.  Here's a great example of chocolate chip cookies and some super simple hot cocoa cones.  Throw a couple of those cones into one of those hand painted sharpie mugs and you've got yourself a sweet gift!
Perfect for: students, teachers, grab bag gifts, or really just anyone who loves to make sweets at home!
Lighted Canvas
I haven't made this one yet, but I saw this in my DIY browsing, and you know what…this looks super cute! Wall décor doesn't have to be expensive or generic – and you don't have to be super artistic to make it!  Check out this idea for a lighted canvas and put your own spin on it!  Use your favorite stencils or make your own design and create a show stopping piece of art. DIY Sparkle Wall Canvas. And yes, you can get the battery powered lights to hide cords!
Perfect for: college students, teens, and anyone who wants a little bit of sparkly beauty on their walls!
Glitter Refresher Cup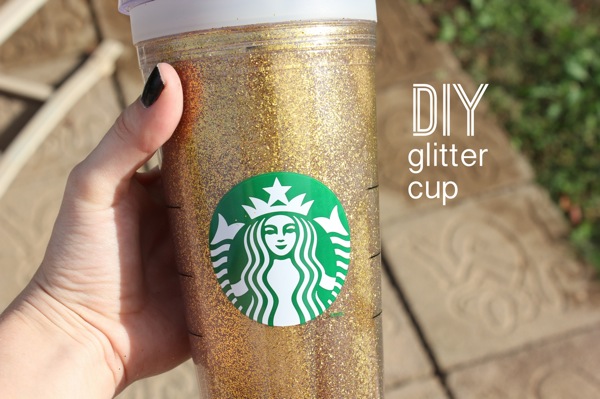 You know those super adorable Starbucks glitter cups? Did you know you can make those yourself and save yourself a bit of cash?  Like…enough to actually fill that cup up a few times?  Yep, and if you put a little creativity and time into it, you can make it totally personal.  I am obsessed with this idea, because I have a TON of people who carry around cups like these.  Make one of these babies, pop a Starbucks card inside, throw a bow on it and you're golden!  Check out the basic instructions here, or get on Pinterest for some creative variations.
Perfect for: everyone who drinks things.    Everyone.  Coffee drinkers, tea drinkers, water drinkers…wine drinkers?!
Custom Chalkboard
I see things like this on HGTV and all over the "DIY shows" all the time! I never realized how SIMPLE it really is to get a really COOL LOOKING result!  You really only need four supplies:  plywood, painters tape, chalkboard paint, and some decorative paint.  Make sections, make squares, make diamonds, make it YOURS!  This is SUCH a neat project that almost ANYONE can use.  This example turns a sheet of plywood into a weekly menu, but the creative options are endless!  I've even seen some that have coat hooks thrown on at the bottom or mail bins added – it's such a simple, fun project that can go from plain to totally custom, depending on how much you want to do!  Check out this super simple chalkboard project.
Perfect for:  the kitchen connoisseur, the teacher in your life, or the obsessively organized (or the one you wish was more organized!)
So fear not, my friends – the holidays may be on their way in, but you don't have to have the "what the heck to give" freak out!  If you try out any of these, let me know!  I'd love to see how they turn out.  Also, feel free to share with me YOUR favorite DIY gifts.  Has there been one that was a TOTAL HIT?  I'd love to hear about it!
And of course, if none of these strike your fancy, and you want some custom artwork, get a hold of me ASAP!  Or, if you'd like, turn select pieces of my artwork into everything from phone cases to shower curtains, throw pillows and more in my print shop.